stephanie & trent
travels, interactions, and other documentations
23.7.13
Mariachi band at the seafood restaurant
Trent had the opportunity to visit Monterrey Mexico for a business trip just this past week. Luckily I was able to shimmy my way into the sedan and go with him and his two colleagues on the adventure. We knew that we were taking some risks (in Oct 2012, Monterrey was rated the #38th
most dangerous city
in the world) but since we were going with a previous resident of the city, we felt safe enough.
Monterrey is UNBELIEVABLE. It's unlike any Latin American city I've ever been to: modern, clean, gigantic, delicious, and cosmopolitan. Just search Monterrey on Google images and see what pops up. I kept having to remind myself that it was such an unstable city. Because honestly I've felt much more nervous in many cities in USA.
Unfortunately, most of our trip was working; I stayed in the hotel working on a graphics and advertising for Doc Holliday's while Trent did his thing in the factory. But we were able to have three delicious meals (five if you count the amazing and authentic breakfasts at the hotel), drive around Monterrey Tech campus, and go on a boat tour around the downtown Macroplaza and Fundidola Park. Since most of this was in the evening, and I have yet to buy a more expensive camera, I've posted a couple images from a search showing the boat tour and the Monterrey Tech campus.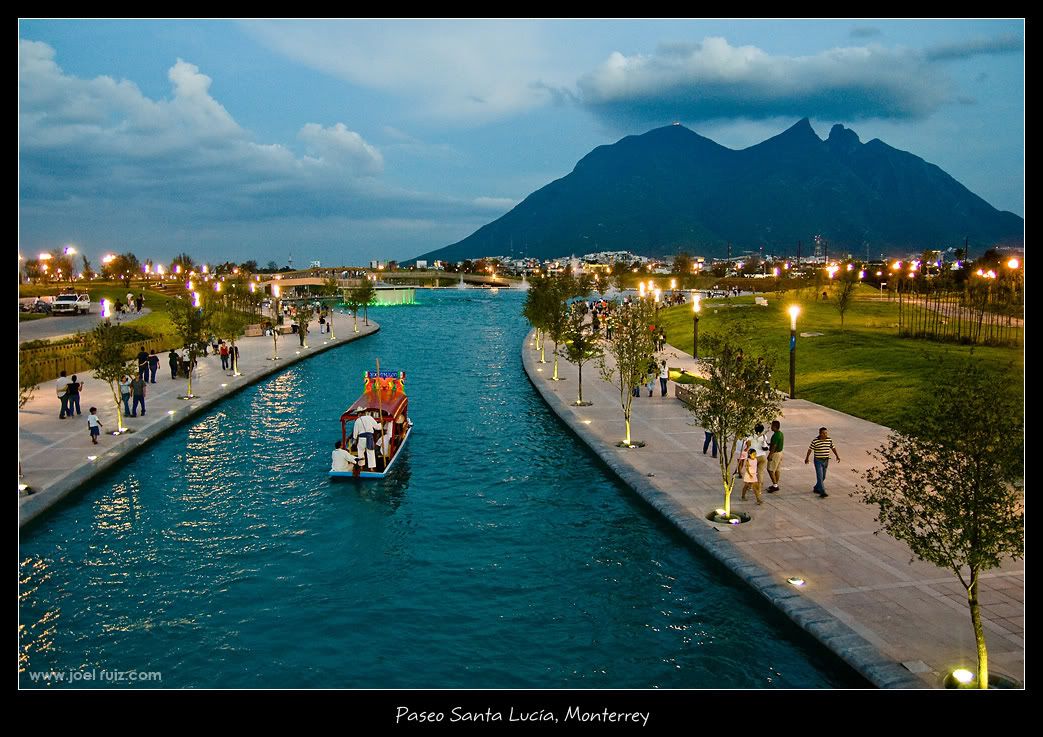 Boat tour through Fundidola Park looking at Saddle Mountiain
Fundidola was originally a Steel Foundry. Kind of reminded
me of Gas Works Park in Seattle. They have a zipline
between those two high pipes!
I'm pretty sure these buildings are for computer science.
Great stadium...but apparently their team is the worst haha.
And here are my pics. ENJOY!
Baby goat at Regio's; a Monterrey delicacy
At lunch the following day with our giant lemonade goblets.
They make it with sparkling water and fresh lemon juice. mmm...
cute decor in the seafood restaurant. The food was great too!
We had an array of seafood with chopped avocado and
cocktail sauce. Again...mmm
"The Cathedral" downtown.
Walking around Macroplaze. Kind of like
Seattle Center.
the tall skinny building lights up and has a search light on
top after sunset.
At the fountain of life. We were surprised to hear it was made
in 1984. Hardly historic but very beautiful. I wish more cities
incorporated classic architecture with modern.
Amphitheater right outside Monterrey's city theater.
Caballo grasa
the beginning of San Lucia for the boat tour
Hector and Trent. We owe our great experience to Hector.
He was such a great tour guide!
Me and Rafa
Restaurant on the river. Like the River Walk in San Antonio
Vat made over 100 years ago with Saddle Mountain
Government building in the Macroplaze
Enjoying our visit. Notice how empty the street is?!
A little eerie...
Growing candles in the restaurant we went to that night
Food anyone can recognize ;)
on the ride back.
using business cards and my sunglasses as a makeshift
eye mask.
9.7.13
I love this country. I love the men and women who serve and fight to keep it free. I love the land "from sea to shining sea." I've traveled and seen a lot of it. But this Fourth of July we decided to stick to our small town of Del Rio. It ended up being a real favorite.
Ironically the day started with us going across the border and picking up some Mexican burgers for our friend, Gina and Justin at Chilakas. Justin can't cross the border because he's part of the Air Force so it was pretty special.
That night we went to the community celebration at San Felipe Creek. It's a really pretty area. While there, a girl randomly walked up to us and gave us 2 free tickets to the Independence Day Rodeo ($40 value). So great because we didn't have any Friday plans!
Watching the fireworks
So maybe the rodeo wasn't San Antonio Rodeo quality but we had AWESOME SEATS. Also, they had Mexican horse dancers with gorgeous costumes. And our friends Gina and Justin were there!
Rodeo Belt (I actually wore it when I was 16
in my Dance Studio's ballet adaptation of Peter
Pan. Can you guess what character I was?)
Saturday we went kayaking with, you guessed it, Gina and Justin. They get all these awesome discounts because of being in the Air Force that we've been stealing from them.
FYI, I put my phone in a plastic Ziploc so I could take it on
the water...Maybe not the smartest move but I REALLY
wanted some action shots! Someday we'll get fancy cameras
and things...
freaking awesome kayaks that have foot peddles.
Trent and Justin wearing their jackets as diapers and thinking
it would actually hold them above water more than if they just
had them around their arms...
Let's get the bugs over with...
LEFT: One day, Zeus had a winking eye and we were nervous about it. Then we found the dead scorpion and we were pretty sure he got stung in the eye while killing the nasty bugger. RIGHT: Saturday I opened the front porch to find this special friend trying to get in out house.
A few weeks ago, Trent's work buddies threw a BBQ celebrating a bunch of birthdays (but actually they just wanted an excuse to throw a party). We went to a family ranch in Acuna and had such a great time. I really don't get why people in Del Rio don't visit Acuna more. Everyone's so fun and friendly.
everyone was cheering for him while doing the
monkey bars...I guess it was pretty impressive?
cute kids playing soccer in the empty pool
Trent shaking a leg (is that a phrase people use?)
the whole group. And I'm the only one that didn't hear "say 'queso'"
The Denison's, a family from our church ward in college, moved to Austin after graduation and we always knew we'd have to visit them because we love them and we LOVE AUSTIN.
Since Trent and I have been to Austin before, I wanted to find a new and interesting way to revisit it. I found
Urban Adventure Quest
which is kind of like a miniature amazing race through the city: finding clues in city sculptures and paintings and really getting to know the downtown in a new and unique way. We all loved it (even though we had to quit halfway through because we were going to die of sun stroke).Trent and I finished it the following day. I definitely want to do it again in a different city.
We went to the famous Continental Club to watch Grammy award winn
er, Redd Volkaer

t, and his rockin' Texas swing band play. It was the most amazing place I'd ever been to. Tons of people were dancing the two step and it wasn't even dark outside (and I'm proud to say we joined them)! The ambiance is one I'll never forget. I was so happy I cried!
found some cute graffiti on the side of Joe's cafe
ate at Home Slice that night. Tres yummy.
At sunset, we went to the Congress Bridge over Lady Bird Lake to watch bats fly out from under the bridge. It's the biggest urban colony of bats in the world! Read about it
here
.
sorry for the crazy filter....just wanted to have the bats punch out of the picture...
We finished the scavenger hunt the following day. It took us to Franks hot dogs, a couple crazy statues, and of course, Lady Bird Lake.